The garage is usually the largest room in a home. Even with a small garage, you can make it work for your needs and keep it organized, too.
In a very small garage, managing that clutter can be very difficult. Maintaining good organization and using all the space available makes it easier to find what you're looking for. Use these small garage storage ideas to maximize space and create an organized area for your home.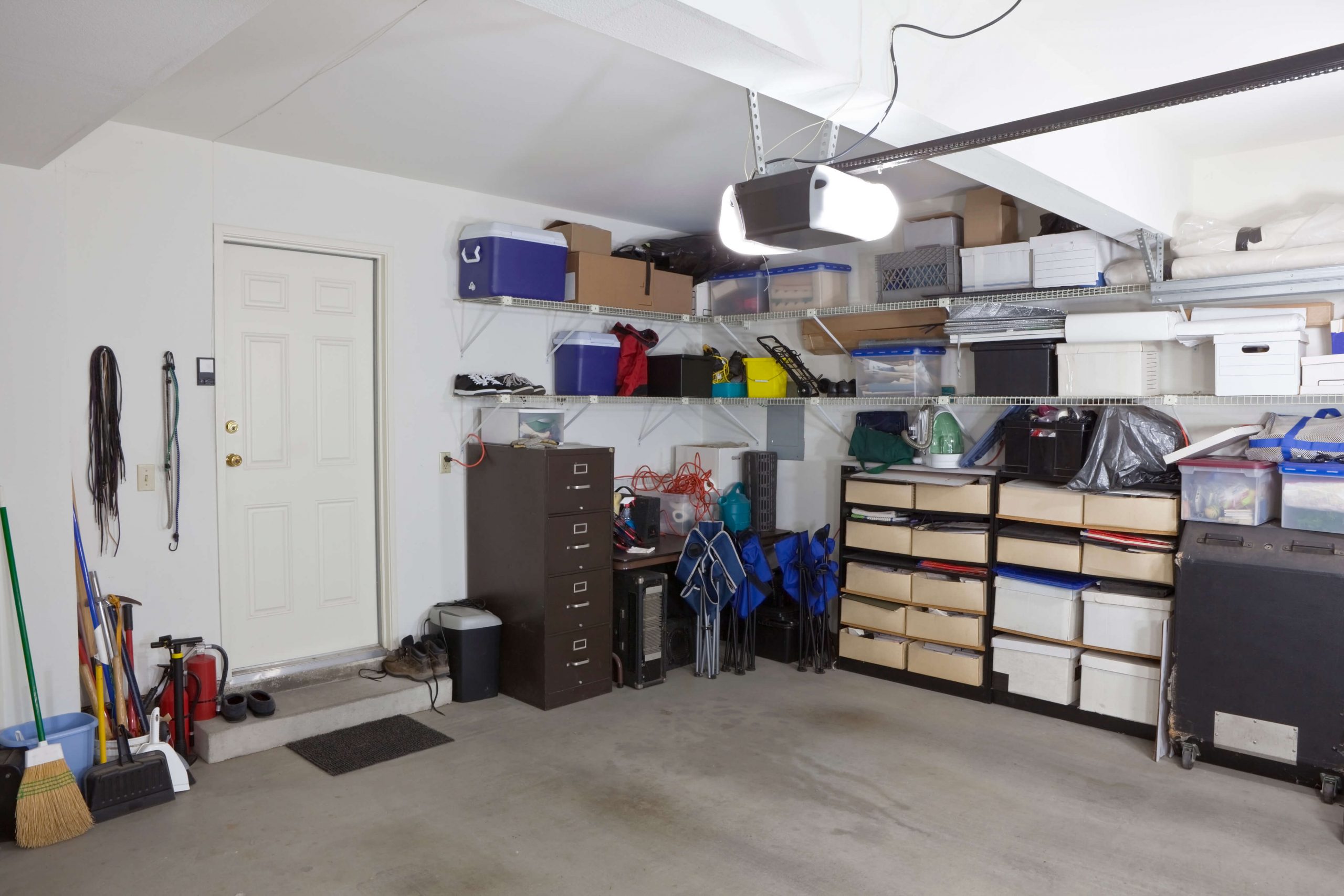 Maximize Vertical Space
All too often, garages are neglected in favor of the living spaces or kitchen. If you're willing to put in a little effort, it's possible to create an organized area that not only looks great but also makes it easier to find things quickly when you need them.
This means making sure that all power tools, lawn equipment, and sports gear is handy and accessible – but also out of view until you need them again. There are plenty of options that lets your maximize your wall space in your garage such as peg boards, modular organizers, and tool racks.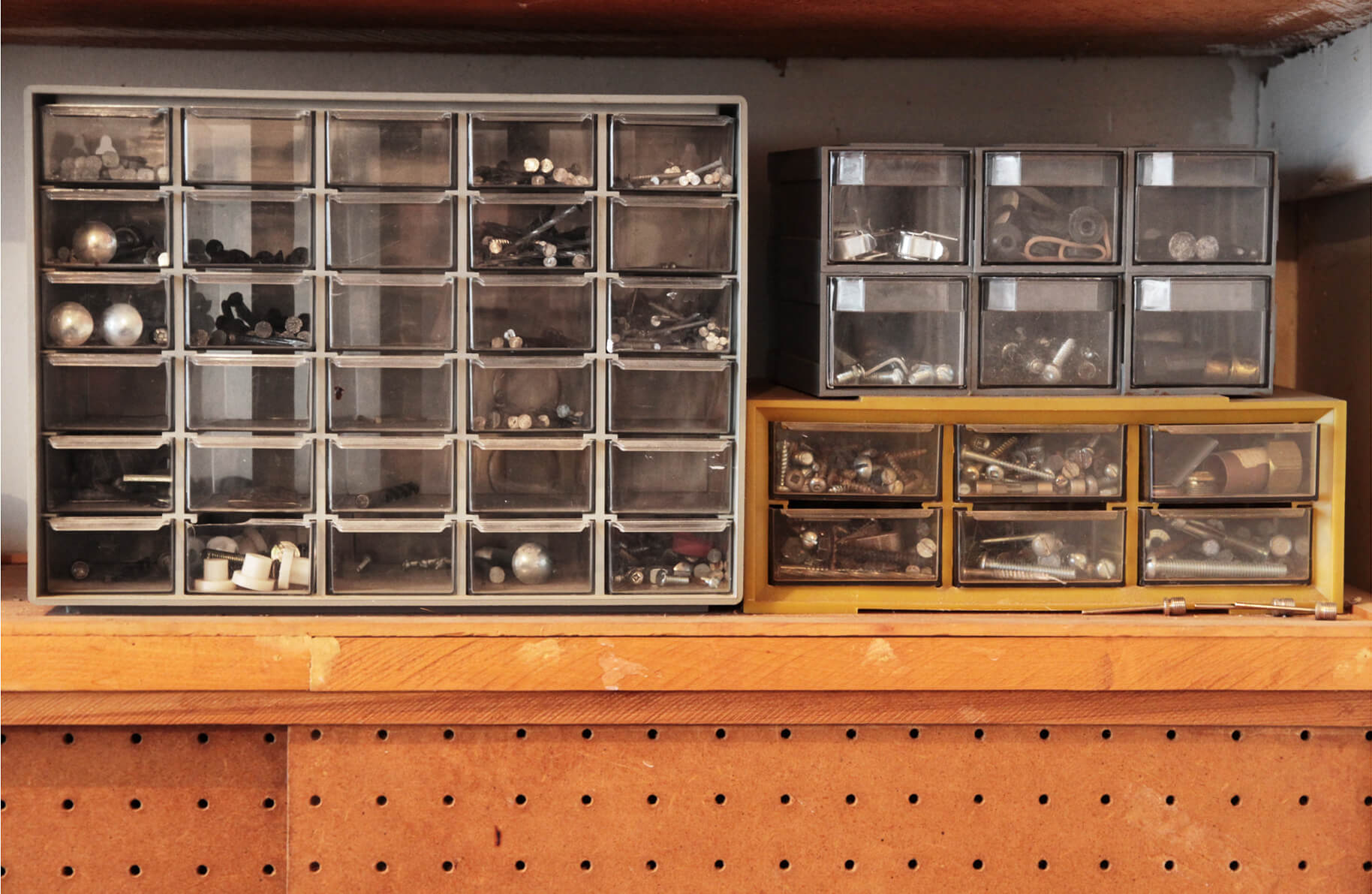 Install Peg Boards
Peg boards are a great way to organize and display tools. They're usually made of a hard, durable material like plastic of metal, so they can be hung on the wall or attached to a workbench. Peg boards come in an array of shapes, sizes and colors that will fit any garage space – plus they're easy to clean and won't chip over time.
Install peg boards on all four walls to give yourself a place to hang objects like garden tools, extension cords, umbrellas and so on. If you have many different types of tools, peg boards are also great for keeping them organized by category (for example, hammers near nails). Different hooks hold different objects, so when installing a peg board on your walls, explore the possibilities.
You can easily customize the look of your peg board by painting it or staining it to match the color of your garage. Decide in advance of buying the hooks what objects you'll hang from the peg boards. This will help you choose the right hooks.
Purchase Modular Organizers
Modular organizers and shelving units are great for storing anything from tools to toys. Modular organizers are easy to install and come in a variety of sizes and shapes, making them ideal for small spaces like garages where floor space may be limited.
The ability to customize storage systems makes them useful for storing anything from holiday decorations to sports equipment. Users can choose between different models with varying levels of compartments or shelves depending on the items they need to store.
Modular organizers are also easy to clean, which is an important factor if you have kids (and pets) in your home. The best part about using modular organizers is that it can help you organize your garage quickly and efficiently. You don't need any special equipment to install them; all you have to do is simply put them together!
Before purchasing modular organizers for your garage, decide in advance what the organizers will hold. Measure the space where the organizers will be stored to ensure they fit.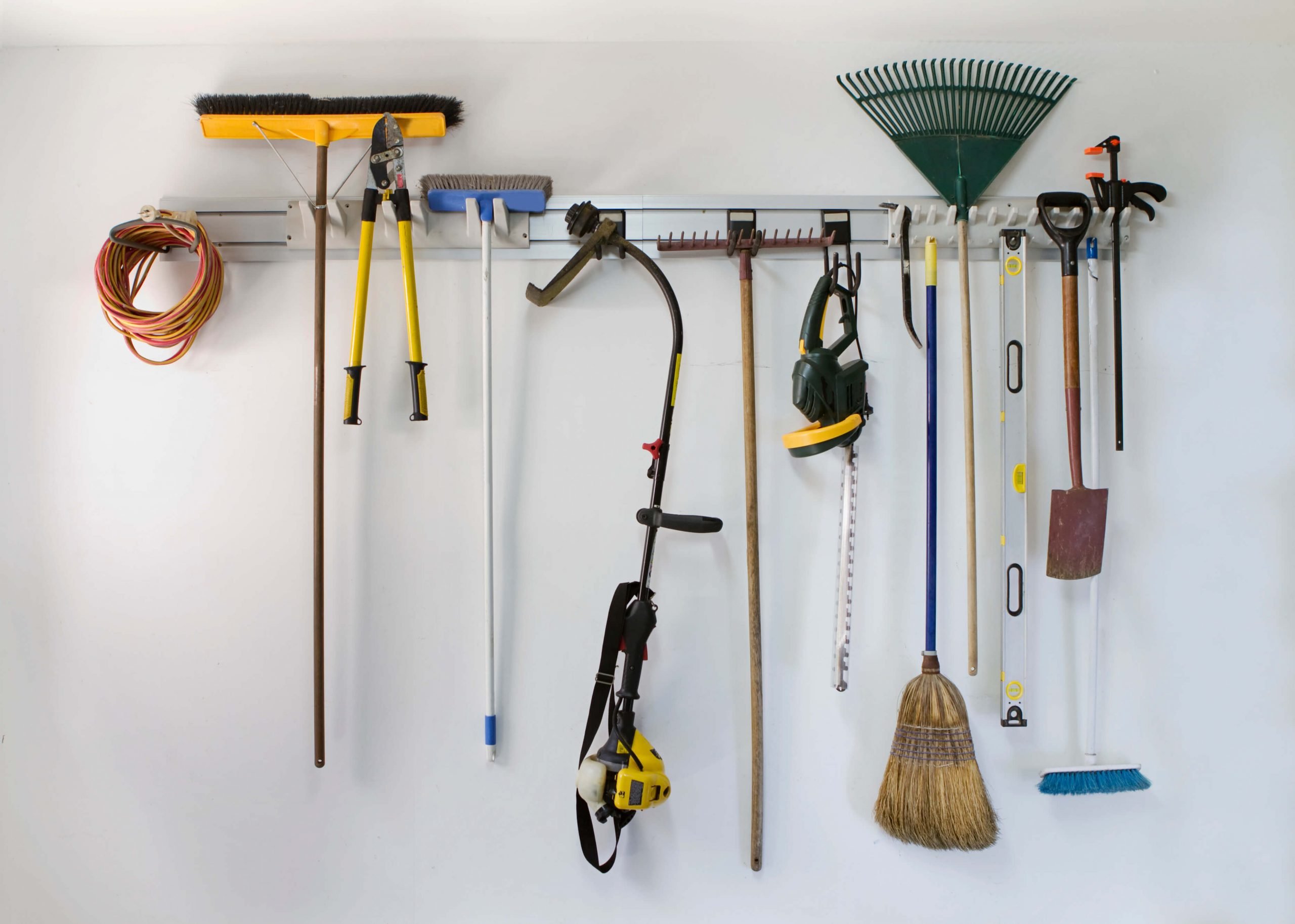 Install a Tool Rack on Your Garage Wall
Something as simple as a tool rack mounted to your garage wall is a great way to quickly save tool storage space. These some in many different forms, but typically hold your tools on hooks.
With a tool rack, all of your most commonly used tools are kept in one spot for easier organization and helps reduces clutter in your garage.
Use the Ceiling
If you have a garage, then it's likely that you have plenty of stuff in there. But did you know that if your garage has a high ceiling, then you could use it to store items that don't get used all the time?
You can use the ceiling to store items that you don't use frequently but need access to when needed. If you have a home gym, for example, there are many items that may not be used often but can still take up valuable space in your garage.
Install a storage rack near the ceiling of the garage to hold your boxes and other possessions. When installing a ceiling storage rack, take note of the maximum weight limit that the rack can hold. A rack of any particular size should be able to hold several hundred pounds. Follow all instructions during installation, or get help from a handyman to ensure the work is done correctly.
If you have an automatic garage door opener, a ceiling rack could stand in the way of your door. Place the door in the "open" position, then find a place where the rack can fit without interfering with or touching the door.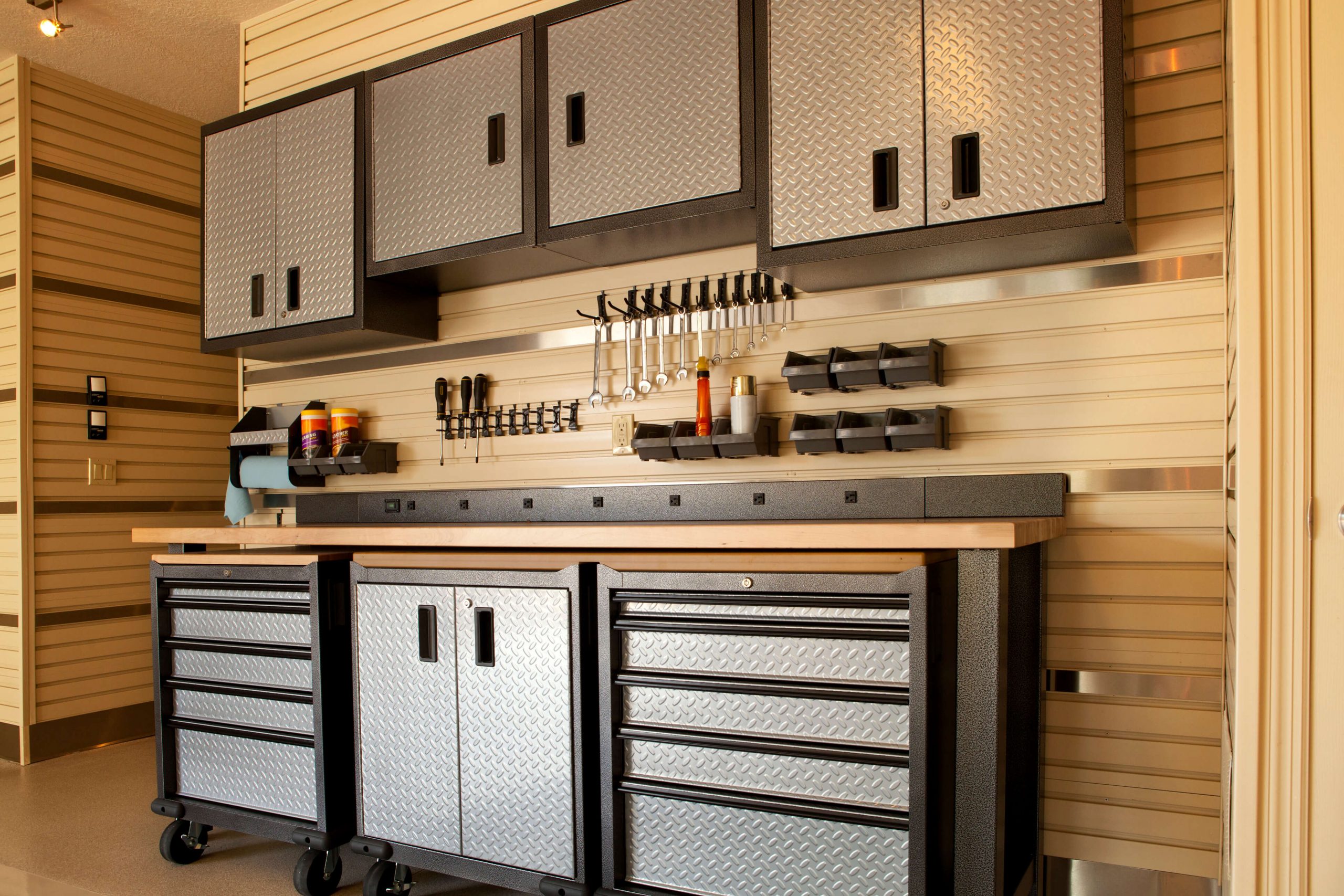 Buy a Tool Box
The first thing that many people think of when they're looking for a way to store tools is a tool box. A tool box is a great way to keep your tools organized and easily accessible, but there are many different kinds of tool boxes available at hardware stores.
Tool boxes are made out of metal or plastic and have lids that can be opened and closed by lifting them up or pushing down on the sides. You can buy tool boxes at most hardware stores or online at retailers like Amazon, Lowe's, and Home Depot. You can find small portables one that can roll around your garage, or something more heavy duty if your want something bigger.
Whatever type of tool box you choose, it's important that it has lots of compartments and pockets so everything doesn't end up jumbled together in a big pile. Purchase one with enough compartments to keep your tools separated and organized by type, size and use.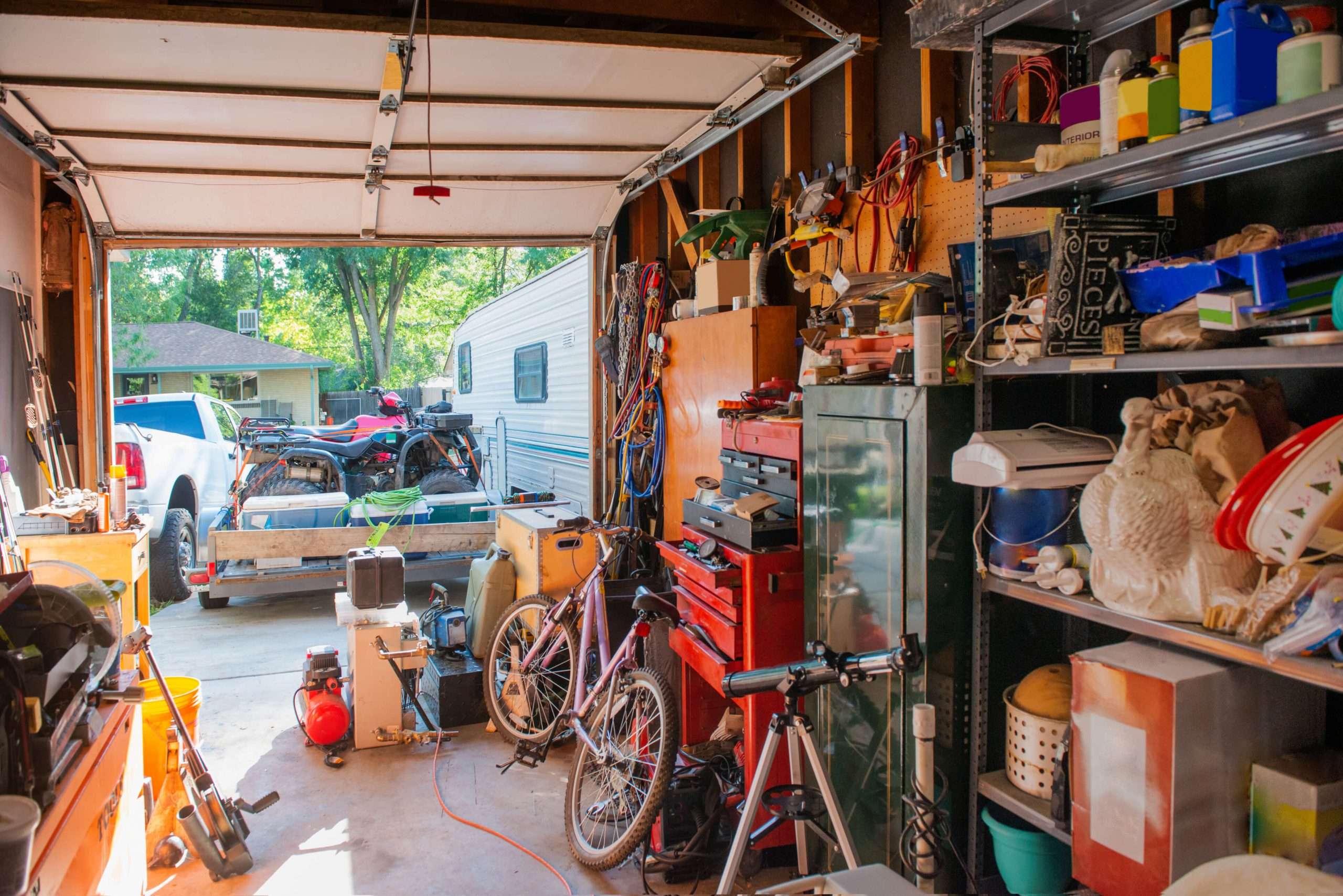 Clean Your Garage Clutter Regularly!
A cluttered garage can make it difficult to find the things you need. This can lead to buying storage units that you never use because the things you need are hidden away.
The first step towards getting organized is taking everything out of the garage area so that only empty space remains. Then decide which items are worth keeping, which ones can be donated or sold on eBay or Craigslist and which ones should be thrown away altogether.
Once this has been completed, clean up any leftover debris from vacuuming up all those little particles that have build over time.
These can include dust bunnies as well as larger pieces such as broken tools or damaged furniture pieces that need replacing before organizing anything else!
Remodeling Your Garage? Contact Your Garage Door Repair Technician
Small garages can make big problems when you have a lot to store. If good organization isn't fixing the problem, it may be time to rebuild or widen your garage.
Anytime you're considering a full-scale garage remodel, start by contacting a reputable contractor in your area. Working with a licensed professional will help ensure the process goes smoothly. When you're ready to install a new garage door, contact Overhead Door of Wilmington. As your garage door contractor, we'll recommend the right garage door for your home.