When people start thinking about things that they can do to better their curb appeal and give their home a makeover, their garage door is not usually at the top of the list. However, giving your garage door a makeover can completely change the look of your home, giving it a brand new look and feel.
Here are some of our top DIY garage door makeover ideas that you can start on today with just a few simple tools!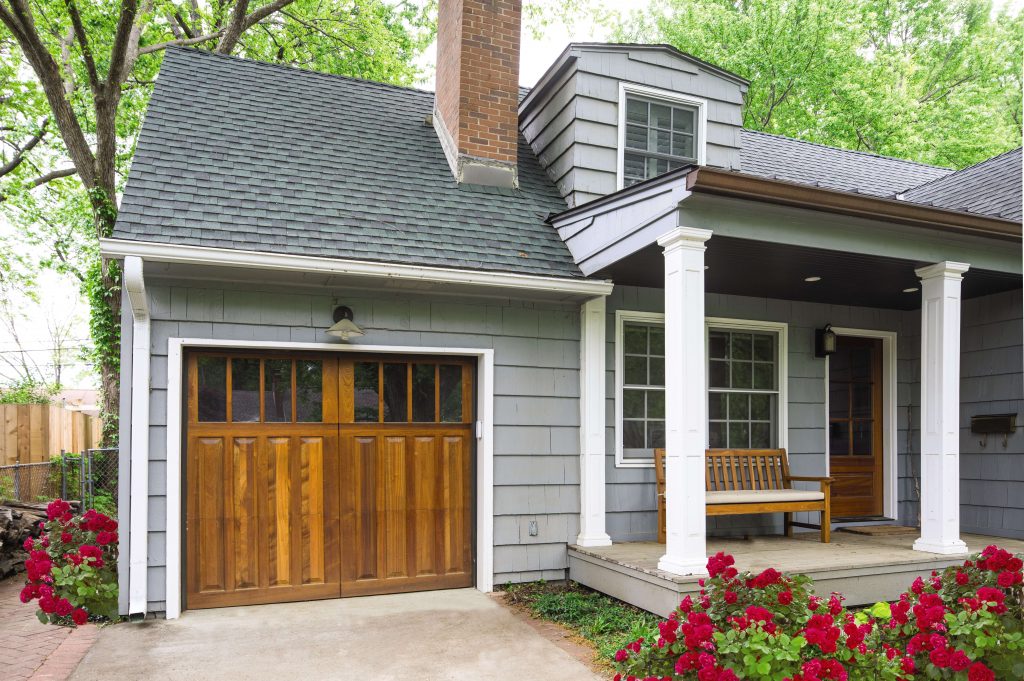 ---
A Garage Door Makeover Gives You More than Just Storage Space
Depending on where your garage door is located on your home, it can actually make up almost 30 percent of the exterior design. This is not a small percentage of what people see when they look at your home.
In fact, it can even be a focal point. If it is dinged up or it needs a new paint job, even if everything else looks great on the exterior of your home, overall it will create a bad design element.
This is the last thing that anyone wants and that is why you should never forget about your garage door when you are considering a makeover for the exterior of your home.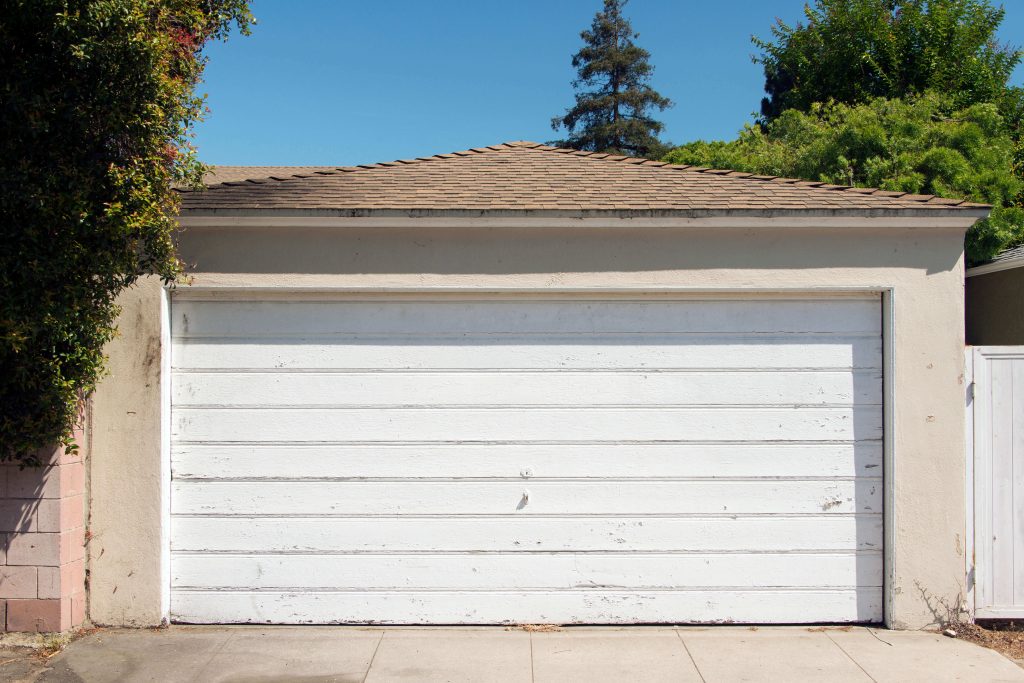 ---
Clean Your Garage Door
Before doing anything to your garage door's makeover, be sure to start by prepping and cleaning the door. Doing this will clear any dirt and grime that can cause more issues further into your garage door's makeover.
Depending on the material your garage door is made from, you will need to use different cleaning materials. For example, if you own an aluminum glass garage door, you'll need to use a glass cleaning solution instead of soap and water.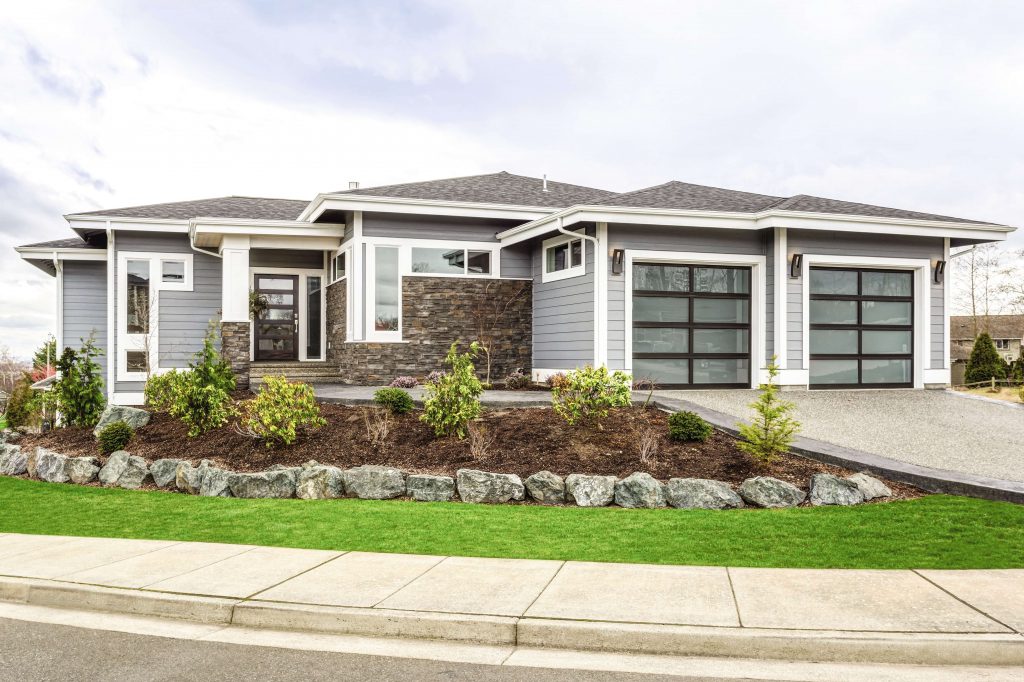 For most cases, you can use a simple mixture of warm water and mild dish soap. Use a garden hose to spray off the garage door and then using a sponge and the soapy water gently wipe off all that grime!
If your garage door has mold or mildew stains, you will need to get those spots with a stronger cleaning solution such as bleach to fully remove the fungi infecting the area, otherwise it'll come back over time.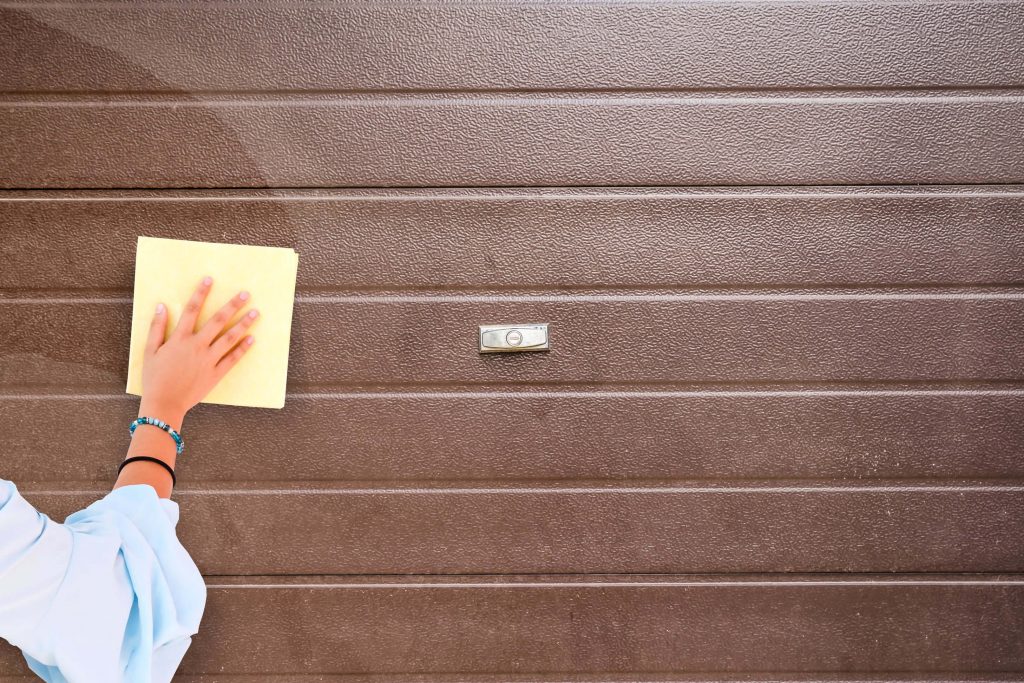 You typically want to do this every few months to keep your garage looking fresh so if you have not done it in a while be sure to use some elbow grease!
---
Paint Your Garage Door
Nothing says garage door makeover quite like a fresh coat of paint! Whether you are needing to fix cracking on an old coat of paint or just wanting to spice up your curb appeal, painting your garage door is the best way to upgrade your garage door's aesthetics while still being a budget friendly DIY project.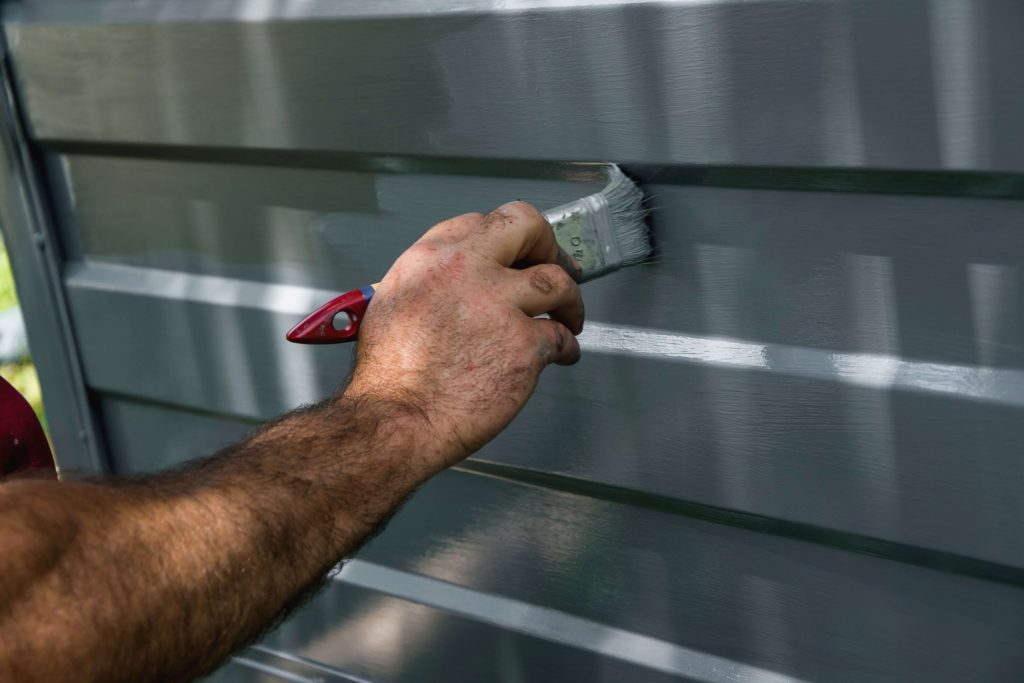 If you want to paint your garage door, make sure it's clean and dry. If the weather is nice outside, use the heat from the sun to help dry out your garage door so it's ready for painting.
Remove Old Coats of Paint
When painting over your garage door's existing coat of paint, you are going to need to get as much of it off as possible so it does not conflict with your new coat of paint.
To do this, you can either sand the old layer of paint down or using a razor blade/utility knife to scrape up the old coat.
Be careful doing this so you do not accidentally scratch your garage door! Different garage door materials react different to these methods so be sure to take your time – a good garage door makeover should not be rushed!
Use Masking Tape
After cleaning the garage door, finish prepping by sectioning off the edges of the paint job with masking tape. Using masking tape will ensure clean edges and straight lines on your new coat of paint, maximizing the aesthetic appeal of your garage door.
Before you start painting the new coat, begin by using a paint primer that is suitable for your garage door's material. Using a paint primer will help seal the surface of your garage door (especially useful for wooden garage doors) and improve how well the new paint will adhere to the garage door.
Once you've prepped your garage door for painting, paint in short strokes from top to bottom on one side at a time. Let each coat dry completely before applying another coat of paint – you'll need about three coats total for full coverage and vibrant color!
How to Select the Right Garage Door Paint Color
Just like any other form of art, the color your choose to paint your garage door is completely subjective and up for you to decide what's best!
However, there are a few general guidelines for what look to go for depending on what you plan on doing with your home.
If you are planning on selling your home, stick with a neutral color that compliments your home's look and color. Neutral colors are more likely to appeal to prospective homeowners in the market.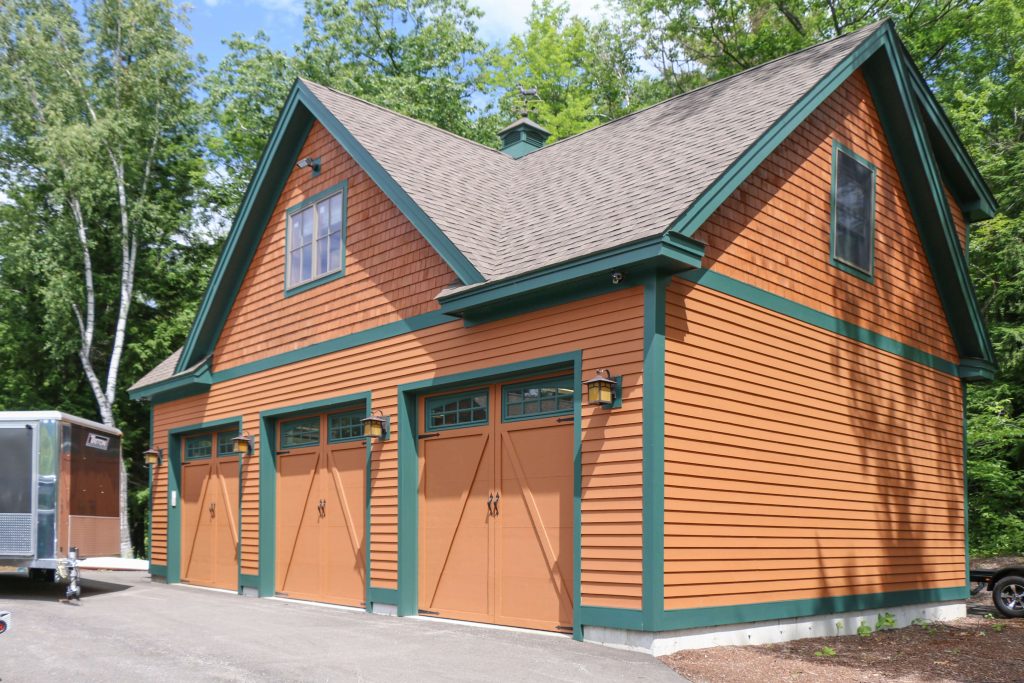 If you are wanting to really improve your home's curb appeal, go for a bright and vibrant color! Use a complementary color that contrasts with your home's look. Since most homes are painted a neutral or brown color, you can choose just about any color to compliment your home with a bold new color.
The three primary colors – red, blue, and yellow – are your best starting points. Either of these colors will add a great look and and personality to your home. If you have a home that is primarily brown, something such as pink or green will also compliment it well!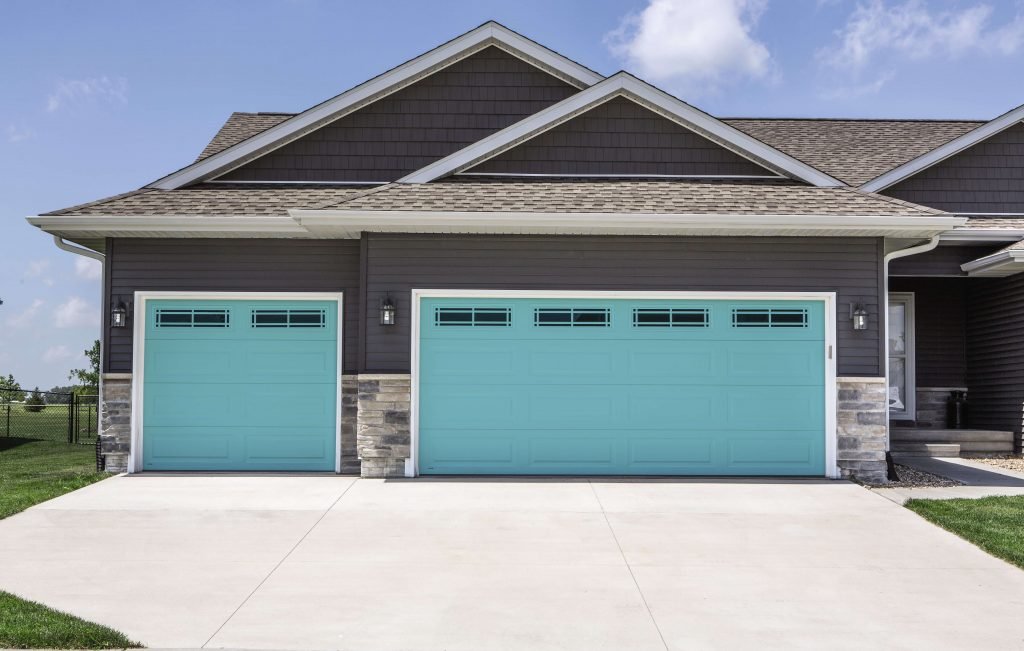 Use your front door as a guide on choosing your garage door exterior paint color. You can either paint the garage door to match the current color of your front door or paint both a brand new color to match – giving a nice balance of colors throughout the front of your home.
For more information on color theory for your home's exterior, be sure to check out JamesHardie's great piece on the subject!
---
Give Your Garage Interior a Makeover as Well
While not seen by your neighbors, the organization and cleanliness of your garage interior should be taken into consideration as well! Here are a few tips on improving the interior of your garage.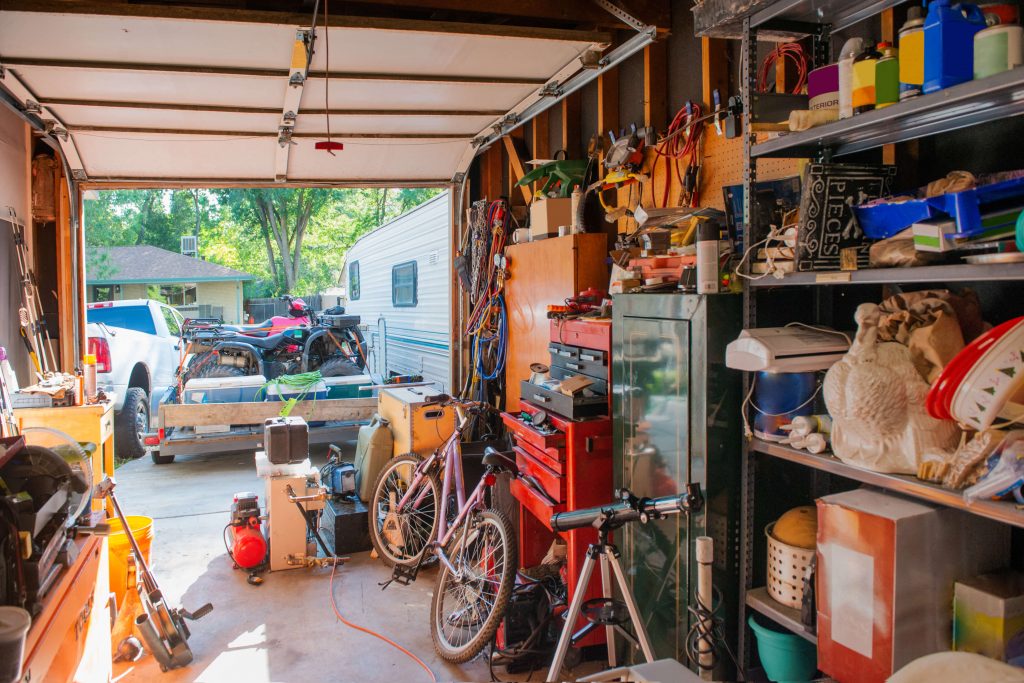 Sort and Donate Any Storage
A great way to start your garage makeover is to begin by sorting and getting rid of anything you do not need anymore. The best way to do this is to take everything out of your garage and bring it outside.
Start by sorting everything into two piles – one for items to keep and one for items to get rid of or donate. Having everything out make it easier to visualize what you usually have kept hidden away in your garage.
One you've sorted through your storage, it's time to donate what you don't need. You can donate items that are in good condition and still have value to a charity like Goodwill or Salvation Army.
Also be sure to consider donating items to thrift stores such as Value Village or Savers, they are great options because they will take anything – even if it's broken or stained!
You can also ask friends and family if they want any of your stuff before you give it away.
Install a Heater in Your Garage
If you are going to invest in your garage makeover, why not take the time to install a heater? Heaters are the best way to keep your garage warm and dry while also preventing damage to your new investment.
A heater will minimize air drafts through the door as well as any gaps that may have appeared because of installation imperfections or other issues with your current unit. A professional installation will ensure that everything is done correctly and safely so you don't lose any of that extra value you just added to your garage with a makeover!
If you live in a wet or humid climate, a heater is also great at preventing mold and mildew form on exposed items stored in your garage.
Add Cabinets and Storage Spaces to Your Garage
One of the best ways you can improve your garage's organization and cleanliness is by installing storage and organization units.
We recently covered this in our article on Awesome Small Garage Storage Ideas for Homeowners so be sure to check out that article for a full guide, but some basic things you can do for your garage's makeover can include:
Adding cabinets to store items
Installing a pegboard for hanging tools
Adding a table for a dedicated work area
Adding a tool cart to hold small tools, like wrenches or screwdrivers.
---
As you can see, your garage door is a pretty important part of your home's exterior design but it is not something that is very difficult to update or fix.
With a few small updates, your garage door can completely change the look of the exterior of your home and increase your curb appeal.
If you are interested in learning more about your options and what you can do to update your garage door, be sure to contact us today. We can help you find the perfect solution to your garage door problem.