If you are considering installing a new garage door, whether for the first time or to replace an outdated one, you probably know there are different materials to choose from. Each of these materials has its own pros and cons, and understanding them is imperative in helping you make the right garage door selection for your residential or commercial property. 
Here are the top garage door materials you can choose from and their pros and cons:  
---
Steel
Best for: All climates, subject to corrosion in salty environments  
Steel is arguably the most popular material for garage doors in many commercial properties. It offers a myriad of benefits, but also has some cons compared to other options.  
Steel doors are not only relatively affordable, strong and durable, but also a low-maintenance option. A top-quality steel garage door, such as a 24- or 25-gage steel door, will easily give you service for at least 10 years.  
Plus, steel doors come in a wide variety of design options, making it easy to fit them into your home design. Steel doors also offer an insulation option to help you regulate your garage temperatures. Steel is also highly prone to dings and dents, which can accumulate over time and take a toll on the door's appearance. It is also subject to corrosion especially when used in salty areas. 
Steel itself is not a great insulator, but when layered with polyurethane insulation such as our Thermacore® insulated steel door line, they become highly energy efficient. 
Pros:

  

 

Low maintenance

 

Very durable

 

Various style options

 

Cost-effective

 
Cons: 

 

Vulnerable to dings and dents

 

Steel is not a natural insulator

 

Subject to corrosion in salty environment
---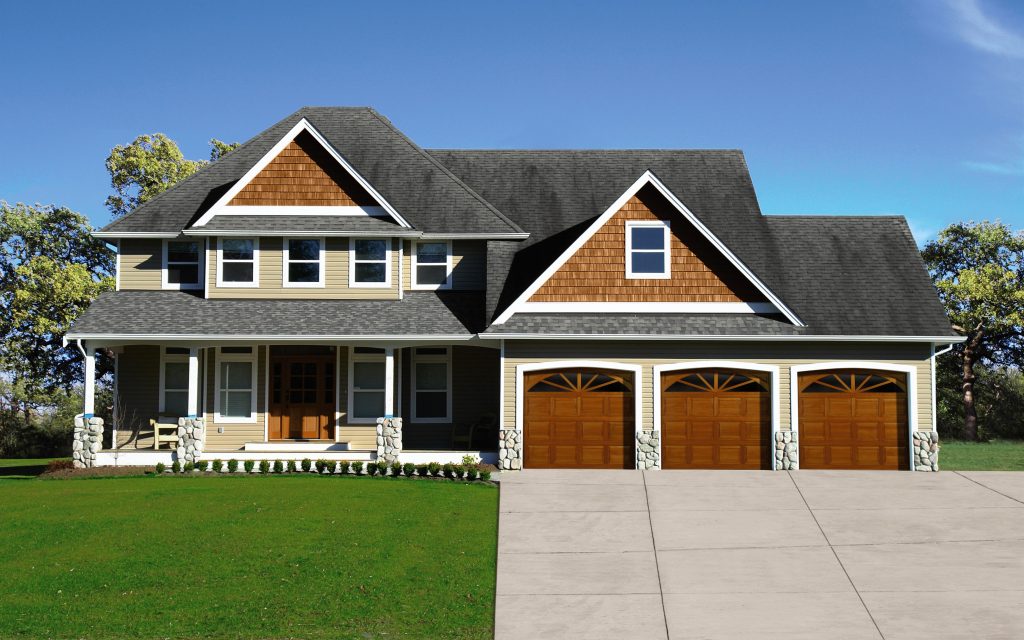 Wood
Best for: Mild, dry climates  
Wood is often the number two option for garage doors in popularity. They have been in existence since the very early days of garage door use.  
Wooden garage doors are preferred over other materials because of their aesthetic appeal. Wood gives your garage door a unique and distinguished look, and it can be customized to fit any style or design you want. Our signature carriage garage door collection has over 16 styles of wooden garage doors for you to choose from, making your house even more unique.  
The biggest disadvantage with wood is that it requires constant maintenance. If not well taken care of, which includes regular repainting, priming, sealing and such, it can easily deteriorate and lose its aesthetic appeal.  They may suffer cracks, splits, shrinkage, expansion and even rot. Wooden garage doors also have a short life and are very costly. 
Pros:

 

 

Aesthetically pleasing

 

Wood is a natural insulator

 

Endless overlay designs

 

Field-staining to achieve desired look

 
Cons:

 

 

Heavy and difficult to operate manually

 

Requires constant maintenance

 

Can crack, warp, swell or rot.
---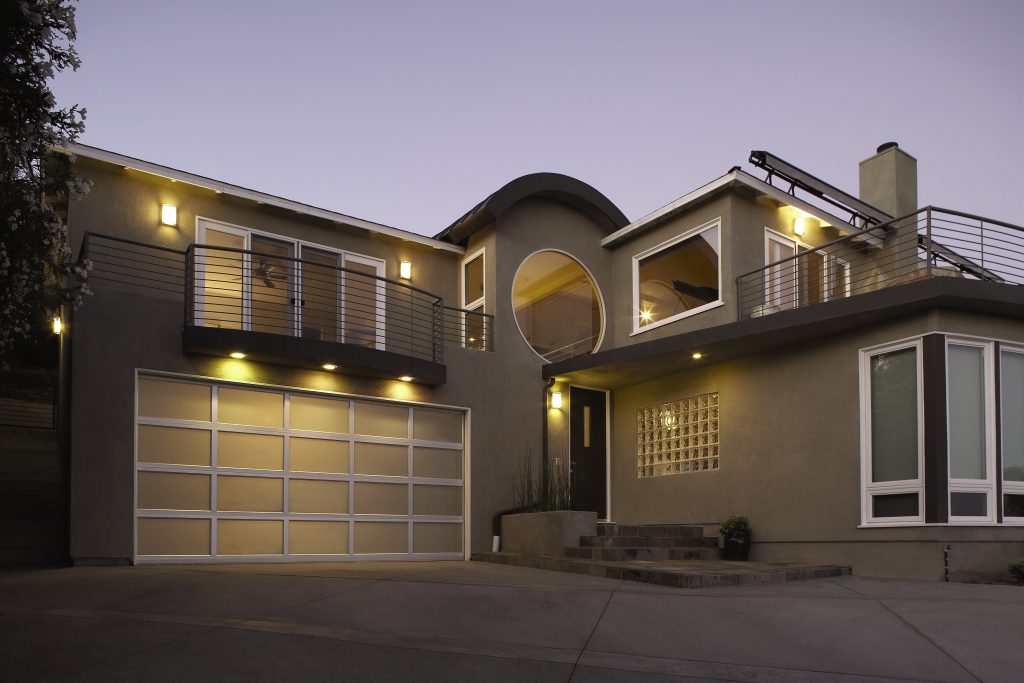 Aluminum 
Best for: All climates, however extreme heat can reduce durability 
This material is somewhat similar to steel and many property owners use it as an alternative. Aluminum offers similar advantages to steel but at a lower price. They are strong, long-lasting and thanks to aluminum's natural resistance do not rust. 
Aluminum doors are also perfect for fitting with many glass window options that allow more natural light into the garage, giving a home that beautiful contemporary look. 
However, aluminum is lighter than steel. Because it's lighter than steel, this material is more likely to dent and does not last as long as steel does, especially in areas with high wind speeds.  
Aluminum also has a low R-value, meaning that they are less insulated than garage doors made from other materials. 
Pros:

 

 

Aluminum is naturally resistant to rust

 

Highly customizable

 

Large glass windows allow maximum light to go into the garage

 

Low maintenance

 
Cons: 

 

Low insulation

 

Not fully waterproof

 

Less durable

 

Less privacy when fitted with glass windows
---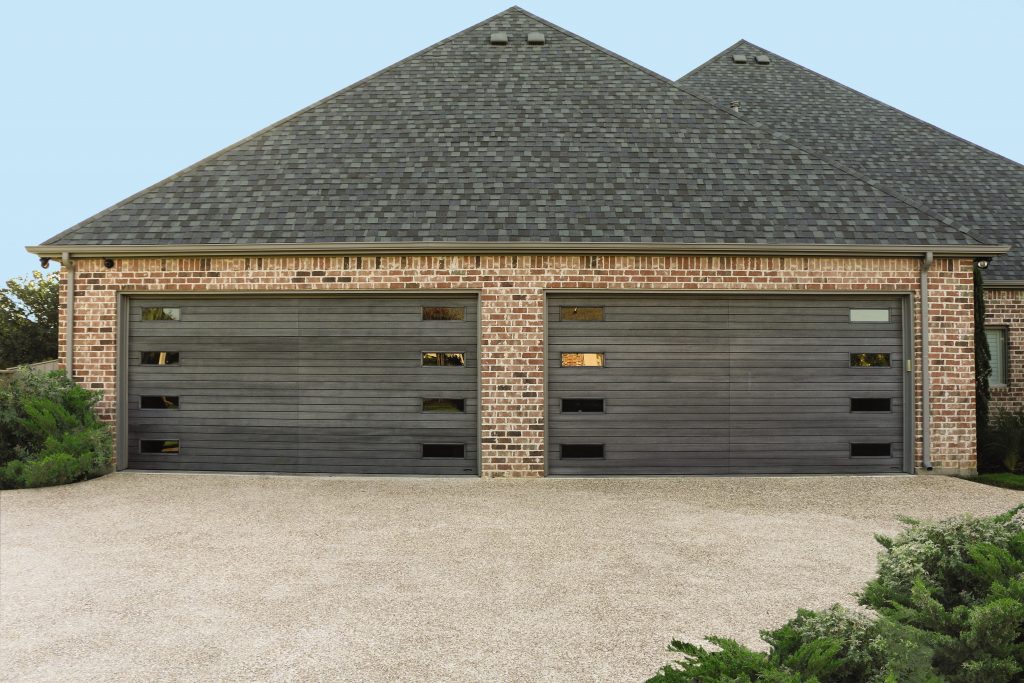 Fiberglass
Best for: Warm, humid climates 
 Though uncommon, fiberglass material is best for garage doors fitted in highly salty areas such as beachfront properties. Fiberglass panels are extremely durable, more dent resistant than steel, and highly resistant to corrosion or rust.  
Their high resistance to corrosion is what makes them a perfect option for coastal properties. In addition, fiberglass material requires almost zero maintenance. Fiberglass is a poor insulator and may fade due to long exposure to the sun. 
Pros:

 

 

Resistant to warping, shrinking or corroding due to moisture

 

Windows allow more natural light into the garage

 

Won't contract or expand from temperature changes

 

Low maintenance

 
Cons:

 

 

Fiberglass is brittle and is more susceptible to damage

 

Will often crack and develop a yellow tint with age

 
---
Wood Composite
Best for climates: All 
 Also known as faux wood, this material offers the ideal solution for people who want a garage door with a wooden look, but without the extensive maintenance required by wooden doors. This material is as strong as steel and can be painted or stained just like wood. It is also resistant to splitting, warping and rot.  
However, the complex composition of the material makes them quite expensive when compared to other materials but can be a good investment due to the lower maintenance costs.

Bullet point columns 
Pros:

 

 

Low maintenance

 

Moisture, weather and rot-resistant

 

Made from sustainable materials

 

Just as customizable as real wood garage doors

 

More durable

 
Cons:

 

 

Heavier than wooden doors

 

Materials are quite expensive
What is the best material for a garage door?
Determining the best material to use for your garage door depends on your specific needs as each type performs best in specific climates. After learning about each type and their pros and cons, you now have a better idea of what material to choose from. Consider each option carefully and consult a professional garage door dealer to help you settle on the one that meets your specific property's needs.