It's that time of year again when the holiday season is upon us and we are all looking for ways to get into the festive spirit. One way to do this is by decorating our homes, and what better place to start than with our garage doors? After all, the garage door is often the largest and most visible part of our homes, so why not make it look its best for the holiday season?
Here are four fun and creative ideas for decorating your garage door for the holidays:
1. Projector Lights
Use lights to create a dazzling display. Lights are always a popular choice for holiday decorations, and they are a great way to add some sparkle to your garage door. You can use string lights to outline the door, or opt for more complex light displays that feature moving or animated elements. Just be sure to use lights that are designed for outdoor use and check the cords regularly to make sure they are in good working order.
Projectors are among the newest craze in residential holiday decorations. Holiday projectors are designed to shine colored lights and shapes on flat surfaces. Projector lights are perfect for decorating garage doors because they don't interfere with the door's operation in any way.
If possible, set up your projector from the yard and angle the light to hit the door. If the images on the door are too distorted, set up a planter pot in the middle of your driveway and plant the projector in the center of the pot.
2. Wrapped Gifts and a Tree
Cut up plastic tablecloths into rectangular shapes and attach them to the garage door. Attach bows and ribbons to the rectangular shapes to make them look like presents. Cut up a dark green plastic tablecloth into the shape of a tree, then attach the tree to the door. Decorate the tree to your liking.
This decoration is complex and, depending on how it is applied to the door, it could get in the way of the door's operation. If you open and close your door regularly, this may not be the best decoration for you.
Another fun way to decorate your garage door is by using cut-out decorations. These are large cardboard or foam board shapes that are cut into various holiday-themed designs, such as snowflakes, trees, or reindeer. You can paint them, add glitter, or even hang them with string to create a festive scene on your garage door.
3. Christmas Laser Lights
Are you looking for something a little flashier and high-tech? Buy some Christmas laser lights to decorate your home with bright, shiny splashes of color that move in patterns. Christmas laser lights are similar to the Christmas projectors, but lasers are often brighter and easier to see when the property is well-lit. This is an excellent decoration to install if you use your garage door throughout the winter, as it will not interfere with the door's operation.
4. Giant Holiday Wreath
Create a giant holiday wreath with wire and artificial green garland, then hang the wreath on your garage door using wire. Be careful not to nail the wreath into the door, as this could do damage. Holiday wreaths usually prevent homeowners from opening and shutting their garage door, so don't choose this option if you want to continue to open and close your garage.
Bonus: Festive Door Wraps
Add some color with festive door wraps. If you want to make a bold statement with your garage door decorations, consider using a door wrap. These are large vinyl or fabric covers that are designed to fit over your garage door, and they come in a variety of holiday-themed designs. You can choose from snowflakes, Santa scenes, or even a winter wonderland.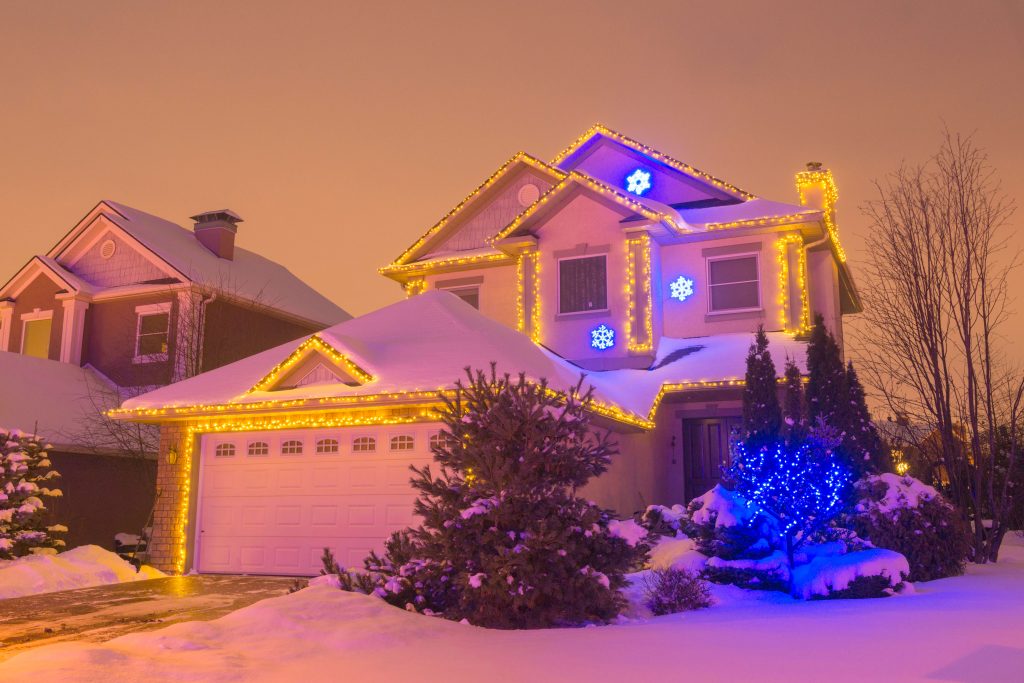 Contact Overhead Door for More Suggestions and Garage Door Help
At Overhead Door of Wilmington, we see some of the best holiday garage door decorations during our service calls. Contact us to find out more about how you can decorate your garage door safely.
No matter which of these holiday garage door decoration ideas you choose, the important thing is to have fun and get into the holiday spirit. So grab some decorations, gather your family, and make your garage door the shining star of your holiday display. Happy holidays!