Your garage door can have a big effect on your home's appearance, and a door that's old or worn can wind up making your entire property look dingy and unattractive. Fortunately, just like the rest of your home, sometimes all it takes is a fresh coat of paint to revive your doors and help your home shine. The key is to make sure you prep your door properly and select the right paint for the job.
Can you paint a garage door?
Most garage doors can be painted, but before you get started, you need to consider the door material. For wood, fiberglass and metal doors, the job is fairly simple. You'll need to thoroughly clean the door and remove any grease, dirt or chipped paint before starting. Then you'll need to select a paint that's made specifically for the door material.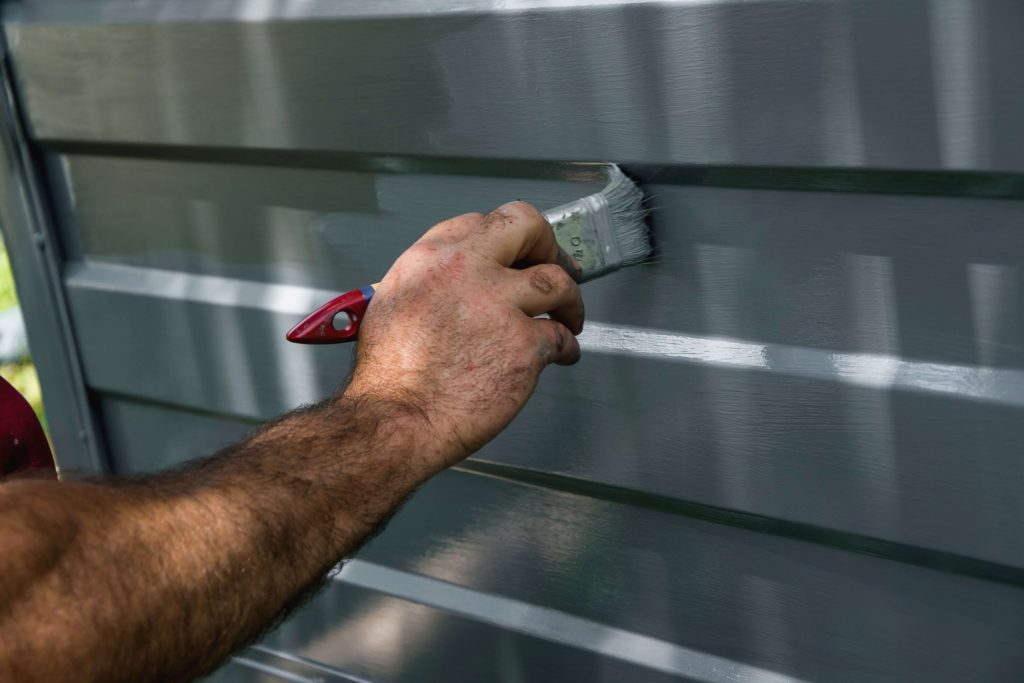 Paints are formulated to adhere to certain materials, and if you choose the wrong paint, the time and effort you put into refurbishing your garage door could be wasted. In some instances, you might wind up with a door that flakes or peels or a finish that just won't "stick" to the surface.
For instance, vinyl doors usually require a special type of paint that's designed just for plastics. If you decide to take a shortcut and use a paint made for wood or fiberglass, the final coat may wind up cracking or peeling once it's exposed to sun or rain. If you're not sure what kind of paint to use, ask your hardware store for recommendations.
Prepping the door
Before you can apply that first brush stroke, you need to make sure the door surface is completely clean. Use a soft brush to remove paint flakes or hardened dirt and grime, then apply a degreasing agent to get rid of oily residue that could prevent paint from sticking.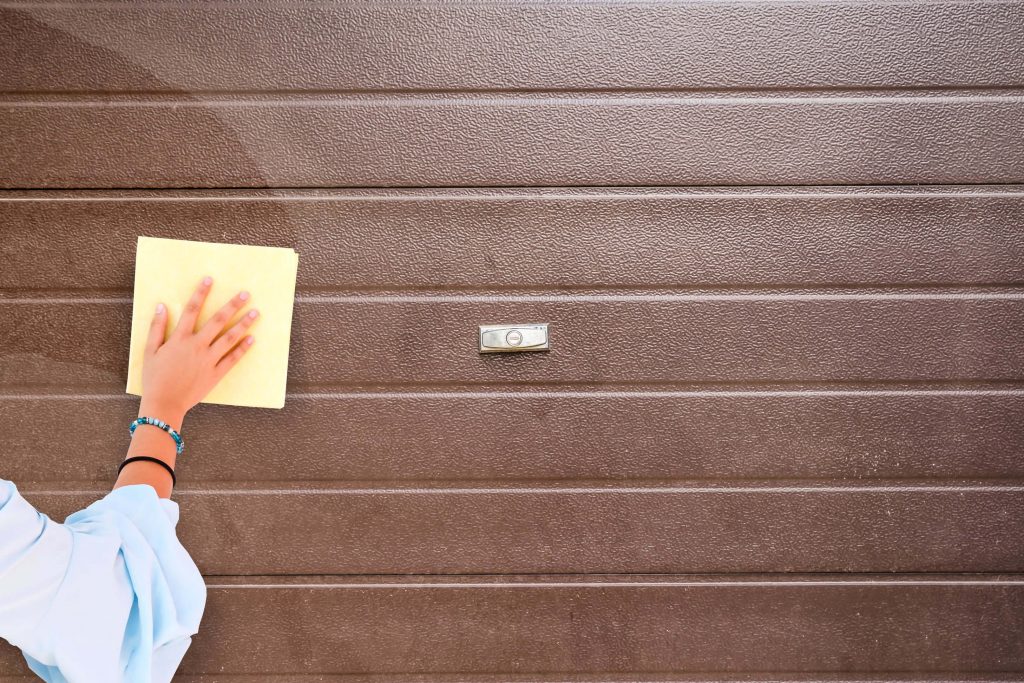 Go over the surface lightly with sandpaper to gently "rough up" the surface so paint adheres better. A thorough rinse with plain water will help ensure the surface is ready for its new coat of paint. Let the surface dry thoroughly before using masking tape to cover areas you don't want painted, like the hinges, hardware or mechanical parts. Then lay a drop cloth down under the door to catch drips.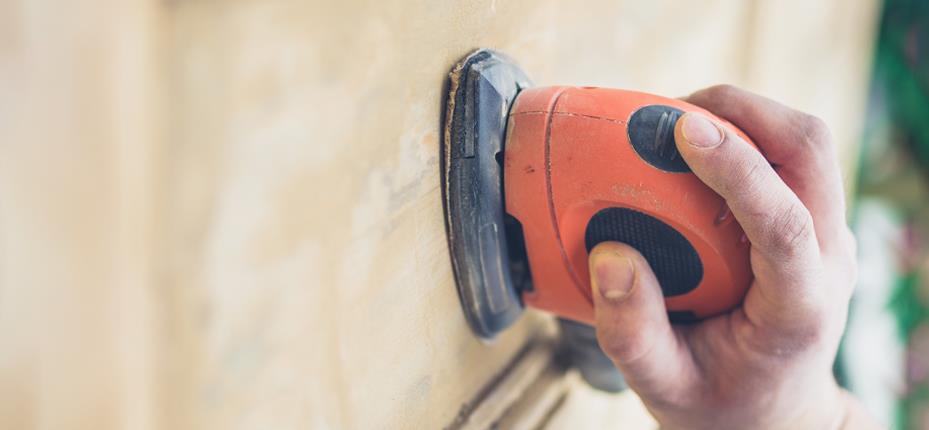 Priming and painting a garage door
Once the door is cleaned and prepped, it's time to apply a coat of primer. Primer helps paint adhere better and it also helps paint cover more consistently. Apply the primer using a brush for tight areas and a roller for larger, flat surfaces. Make sure the entire surface is primed, then let the door dry for at least 12 hours.
Next, apply paint using clean brushes and rollers, and take your time to ensure the paint is applied evenly. Most doors benefit from at least two coats. Just be sure to allow the paint to dry thoroughly between each coat and follow the paint manufacturer's guidelines regarding the recommended number of coats. Once the final coat is on, remove the tape and allow the door to dry completely before using your door.
Painting a garage door is a relatively simple job that can be tackled by most competent DIYers. But if painting's not your thing, no worries. Hiring a painting contractor can help you get the results you're looking for without even lifting a finger.
FAQs: Can You Paint a Garage Door?
Is it possible to paint a garage door?
Yes, it is possible to paint a garage door. In fact, painting your garage door is an excellent way to give it a new look and improve the curb appeal of your home.
What kind of paint should I use on my garage door?
It is best to use a high-quality exterior paint that is designed for use on metal or wood surfaces. Choose a paint that is formulated to withstand the elements and offers UV protection to prevent fading.
Do I need to prep my garage door before painting it?
Yes, you need to prep your garage door before painting it. This includes cleaning the surface to remove dirt and grime, sanding to remove any rough spots or peeling paint, and applying a coat of primer to ensure the paint adheres properly.
Can I paint my garage door if it has already been painted?
Yes, you can paint your garage door even if it has already been painted. However, you will need to prepare the surface properly by sanding and cleaning it before applying a new coat of paint.
How many coats of paint should I apply to my garage door?
It is recommended to apply at least two coats of paint to your garage door. However, depending on the color and type of paint you are using, you may need to apply more coats to achieve the desired finish.
How long does it take to paint a garage door?
The amount of time it takes to paint a garage door depends on several factors, such as the size of the door, the type of paint used, and the weather conditions. However, on average, it can take anywhere from 4 to 8 hours to complete the project.
Will painting my garage door affect its functionality?
No, painting your garage door should not affect its functionality. However, it is important to ensure that you do not get paint on any moving parts, such as the tracks or rollers, as this can interfere with the door's operation.
Can I paint a garage door if it has windows or decorative hardware?
Yes, you can paint a garage door that has windows or decorative hardware. However, you will need to take care when painting around these areas to avoid getting paint on them.
What should I do if I am not comfortable painting my garage door myself?
If you are not comfortable painting your garage door yourself, it is best to hire a professional painting company. They have the necessary skills and tools to complete the job efficiently and effectively.
How often should I repaint my garage door?
The frequency of repainting your garage door depends on several factors, such as the type of paint used, the climate in your area, and the amount of sun exposure the door receives. On average, you should plan to repaint your garage door every 5 to 7 years to maintain its appearance and protect it from the elements.