Clear the Space
Garages tend to be cluttered spaces, with little room for people to mingle and talk. Before you can have a party in your garage, clear the floor to make space. Remove (or at least push to the side) garden tools, fertilizers and chemicals. Hang curtains to hide anything that can't be removed from the garage.
If you're expecting small children to be at the party, put anything dangerous or that can't be played with in your tool shed. Do not allow children to spend time mingling in a space with garden or household chemicals.
Cover Your Garage Walls for a Party
On top of cleaning and organizing, you may opt to cover your garage walls up for the party as well. There are many options to choose from when covering garage walls:
Use a vinyl or metal coating to cover your walls for a permanent upgrade.
A fresh coat of paint is a quick and easy way to liven up your garage for the party.
A more temporary fix involves mounting plywood to the garage walls.
Installing soundproofing foam panels not only adds to visual appeal, it also greatly reduces the noise escaping from your garage and prevents annoying your neighbor
Bring in Light
Garages tend to be poorly lit spaces, and those that are well-lit often have blue-cast fluorescent lighting. Hang warm string cafe lights throughout your garage to create a pleasant party environment.
Holiday lights also work, if you're on a budget and just want to use what you have around the house. String them around your garage and lay them on tables to add to the festive atmosphere.
Of course, no party is truly a party without a disco ball. You can find these for cheap online and are a must for any great party!
Another way to bring light into your garage is to open the garage door, if the party takes place during daylight hours. If you plan to open the door during the day and close it when it becomes dark outside, take care to keep any objects out of the path of the doorway so it can be closed easily when the time comes.
Decorate Your Garage
Lighting is just the beginning when it comes to throwing a great party. To truly bring your celebration to life, consider adding decorations such as balloons, streamers, banners, and more. For a graduation party, it's a nice touch to get decorations that match the colors of your graduate's college, which will make their day even more special.
If you have tables set up, don't forget to add centerpieces as well. These can be anything from balloons with a "congratulations" cutout in the middle to a beautiful bouquet of flowers. Adding centerpieces can help tie your decorations together and make your party look even more put-together.
Make a Noise Plane
Graduation parties can get noisy, which can make problems with the neighbors. Make a plan to control noise. Some suggestions:
Leave the garage door closed throughout the party.
Keep the door open but use your garage for serving food only (and play music inside the house).
Keep the door open but keep music down.
Remember, you have options! If you do plan on playing loud music on your property, it's important to communicate with your neighbors. Let them know that you'll be playing loud music and inform them of the time when you plan to turn it down. Your neighbors are likely to be more understanding if they know when to expect the noise to stop.
Think About the Smell
More often than not, garages tend to have a strange smell from gasoline, chemicals, mildew or mold. For your party, you want to make sure these odors are eliminated to make your guests feel more comfortable.
Wipe down everything with cleaners.
If your garage is not climate controlled, consider throwing out any cardboard or paper products as those materials tend to develop mold when they absorb moisture in the air.
Keep a deodorizer inside your garbage cans. These can be store bought or made from common household materials such as baking soda, vinegar, essential oils, etc.
If you have gasoline or oil stains, clean them with a heavy duty brush and specialized cleaner. If you have a power washer it will come in handy for these kinds of stains.
If you consistently have mold issues, check your garage's weather stripping for replacement!
Give Your Garage a Tune Up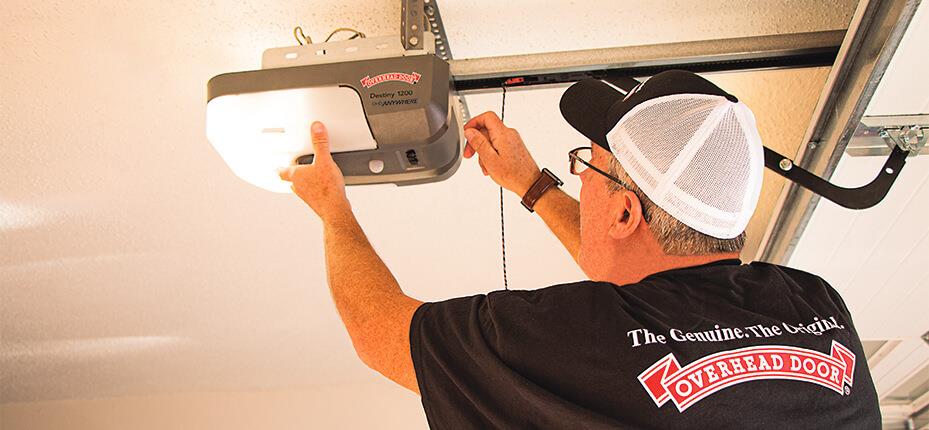 If you're considering leaving your garage door open during your upcoming graduation party, it's a good idea to get a garage door tune-up beforehand. By scheduling an appointment with Overhead Door of Wilmington, you can ensure that your garage door is working correctly and won't cause any interruptions during your celebration. Don't let a malfunctioning garage door ruin your big day – contact us to schedule your appointment today!
FAQs
Why hold a graduation party in your garage?
Holding a graduation party in your garage is a great way to save money on renting a venue, and it can also provide a unique and customizable space for your celebration.
How can I prepare my garage for a graduation party?
You can prepare your garage for a graduation party by cleaning and decluttering the space, setting up tables and chairs, adding decorations, and making sure there is adequate lighting and ventilation.
What kind of decorations should I use for a graduation party in my garage?
You can use a variety of decorations for a graduation party in your garage, such as balloons, streamers, banners, and table centerpieces in your graduate's school colors or theme.
What kind of food should I serve for a graduation party in my garage?
You can serve a variety of food for a graduation party in your garage, such as finger foods, snacks, sandwiches, and desserts. You can also consider having a caterer or food truck provide the food for your party.
How can I make sure my garage is safe for guests during a graduation party?
You can make sure your garage is safe for guests during a graduation party by clearing any hazards, ensuring there is adequate lighting, and making sure the garage door is open for proper ventilation. You can also consider adding additional safety features, such as fire extinguishers or first aid kits.